How it works?
THE PRODUCT IS MADE JUST FOR YOU!
The price is ticking...
...yes, You did see it right, THE PRICE IS TICKING UP every minute. The sooner You purchase the product the cheaper You get it.
The time is ticking...
...and also, THE TIME IS TICKING! You can pre order the product at discount only within the limited period of time. When it is over then it is over!
Made for YOU!
If You have any small changes needed to be done for the product then let us know in the comment. The product is made for You.
Delivery time
We are FAST but we are SUSTAINABLE. It can only happen so fast cause the factories are local and close by.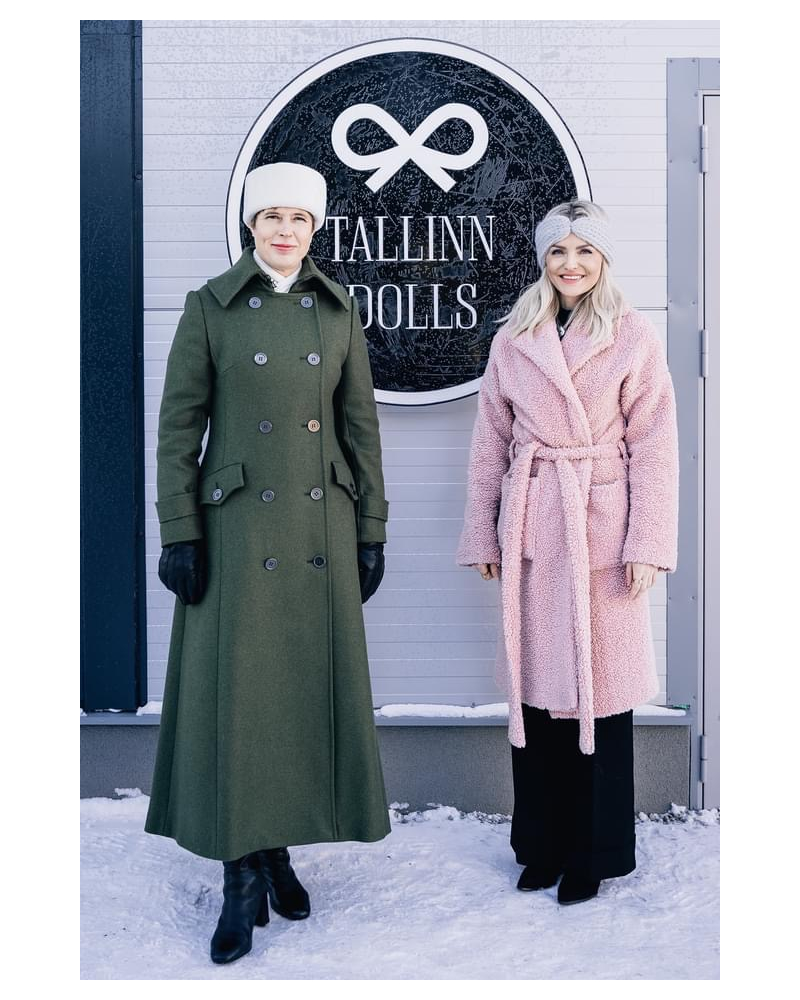 PRESIDENDI KÜLASKÄIK
Eesti Vabariigi President Kersti Kaljulaid käis meil külas uhiuues Tallinn Dolls tootmishoones Varjal Ida-Virumaal ja tutvus keskkonnasõbraliku ning digilahendustel põhineva tootmisprotsessiga, mis on võrreldes moesektori keskmisega kümme korda kiirem. Riigipea külaskäik on meile suureks tunnustuseks! "Olukorras, kus mitmed kodumaiseid rõivatootjad on siinsed tootmisüksused sulgenud ja viinud tootmise teistesse riikidesse, on meie ärimudel üles ehitatud paindlikkusele ja kiirusele, mille tagavad ühest küljest kohalik tootmine ja teisalt digitaalsed lahendused. Meil oli hea meel tutvustada Vabariigi Presidendile meie tootmisprotsessi ning vahetada mõtteid praeguse majanduskeskkonna, ettevõtjate ees seisvate väljakutsete ning ettevõtete ekspordivõimaluste üle," ütles 2008. aastal Tallinn Dollsi brändi loonud ettevõtja Mari Martin. Uued Tallinn Dolls tooted on toodetud päikese energia abil ning meie tootmishoone juurde kuulub 50kw päikesepark, mis katab ära tootmishoone energiavajaduse. "Igal tasemel seisame keskkonnasõbralikkuse eest. Soovime, et Tallinn Dolls tooted oleks loodud taastuvenergia abil, et vähendada CO2 jalajälge," kommenteerib Mari Martin. Piltidel Tallinn Dollsi juht Mari Martin riigipeale tootmishoonet tutvustamas. Fotode autor: Henri-Kristian Kirsip
See more
About Tallinn Dolls
Tallinn Dolls is a playful designer brand. Our magic recipe is:
A little bit of courage
100g of elegance
Killer amount of style
Pinch of spice

Clothes with character!